Mango Fruit Tea DIY Bubble Tea Kit - Gift Box Set
Regular price
Sale price
$46.75 AUD
Unit price
per
Sale
Sold out
Mango fruit tea is a refreshing tea! I mean it's delicious in store, but you know what's even better? This Mango Fruit Tea Kit makes the same refreshing drinks you'll find at bubble tea shops but now at the comfort of your own home! You only need water and ice! Making it yourself, customising the way it tastes so that it will specifically taste your taste buds!

10 serves + 3 serves for FREE

Each standard Mango Fruit Tea Kit comes with:

Mango Popping Pearls OR Mango Coconut Jelly
Normal Tapioca Pearls OR Instant Tapioca Pearls
This GIFT BOX kit will come beautifully packed in a gift box, looks great and hassle free! No gift wrapping need to be done!  
How to cook Tapioca Pearls? 
Add tapioca pearls to take your bubble tea experience to the next level!
Follow our recipes to cook your own pearls and mix your milk tea just the way you like it!
No time for cooking the tapioca pearls? Try our instant tapioca pearls, they are quick to soften and taste just like the one from store-bought bubble tea. 
Lets learn how to care for your ingredients:
Syrup and toppings (popping pearls, coconut jelly and cooked tapioca pearls) must be refrigerated and consumed within 7 days after opening.
Tea bags, flavoured powder,  must be stored in cool dry place, avoid sunlight. Consume within 14 days.
Share
BUY 5 GET THE 6TH FREE*

Add 6 to cart, discount automatically applied at checkout. This offer applies on combination of syrup, coconut jelly & popping pearls as well.
Ingredients

MANGO SYRUP:
MANGO JUICE, SUCROSE, FRUCTOSE, WATER, TARTARIC ACID, MANGO FLAVOR, XANTHAN GUM, DL-MALIC ACID,
TRISODIUM CITRATE, POTASSIUM SORBATE, SUCRALOSE, ACESULFAME POTASSIUM, FD&C YELLOW #5, FD&C YELLOW #6

MANGO POPPING PEARLS:
WATER, FRUCTOSE, CALCIUM LACTATE, STARCH AC- ETATE, XANTHAN GUM, DL-MALIC ACID, SODIUM AL- GINATE, FLAVOUR, ALLURA RED AC (E129), TARTRA- ZINE (E102), POTASSIUM SORBATE (UNDER 0.02%).

MANGO COCONUT JELLIY:

NATA DE COCO PULP 43% , HIGH FRUCTOSE SYRUP 33.7612% , WATER 21.7% , SUGAR 0.94% , FLAVOR 0.23% , DL-MALIC ACID (E296) 0.15%, POTASSIUM SORBATE (E202) 0.085% , XANTHAN GUM (E415) 0.061% , SODIUM CITRATE (E331) 0.039% , CALCIUM LACTATE(E327) 0.028% , ANTIFOAM (AKASIL ANTIFOAM 30PSF) 0.0028%, FD&C YELLOW #5 (E102) 0.0024% , FD&C YELLOW #6 (E110) 0.0006%


FRUCTOSE:
HIGH FRUCTOSE CORN SYRUP, FRUCTOSE, GLUCOSE, SUGAR, WATER

TAPIOCA PEARLS:
TAPIOCA STARCH, CARAMEL COLOUR, WATER,
POTASSIUM SORATE FLAVOR, XANTHAN GUM, ETHYL MALTOL

INSTANT TAPIOCA PEARLS:
TAPIOCA PEARLS (TAPIOCA STARCH, WATER, HYDROXYPROPYL DISTARCH PHOSPHATE(E1442), ACETYLATED DISTARCH PHOSPHATE (E1414),
CARAMEL COLOR (E150C), SODIUM ALGINATE(E401), BROWN SUGAR FLAVOR)(51.6%), WATER (25.8%), FRUCTOSE SYRUP (16.4%)
BROWN SUGAR(DEMERARA SUGAR, MOLASSES) (5.6%), XANTHAN GUM(E415)(0.2%), CITRUS PECTIN (E440)(0.1%)
SODIUM CARBOXYMETHYL CELLULOSE(E466)(0.1%), MALIC ACID(E296)(0.1%), MONOPOTASSIUM PHOSPHATE(E340(II)(0.1%)

Shipping Policy

$9.95 Flat Rate Shipping Australia Wide.

Free Shipping Australia Wide On Orders Over $69.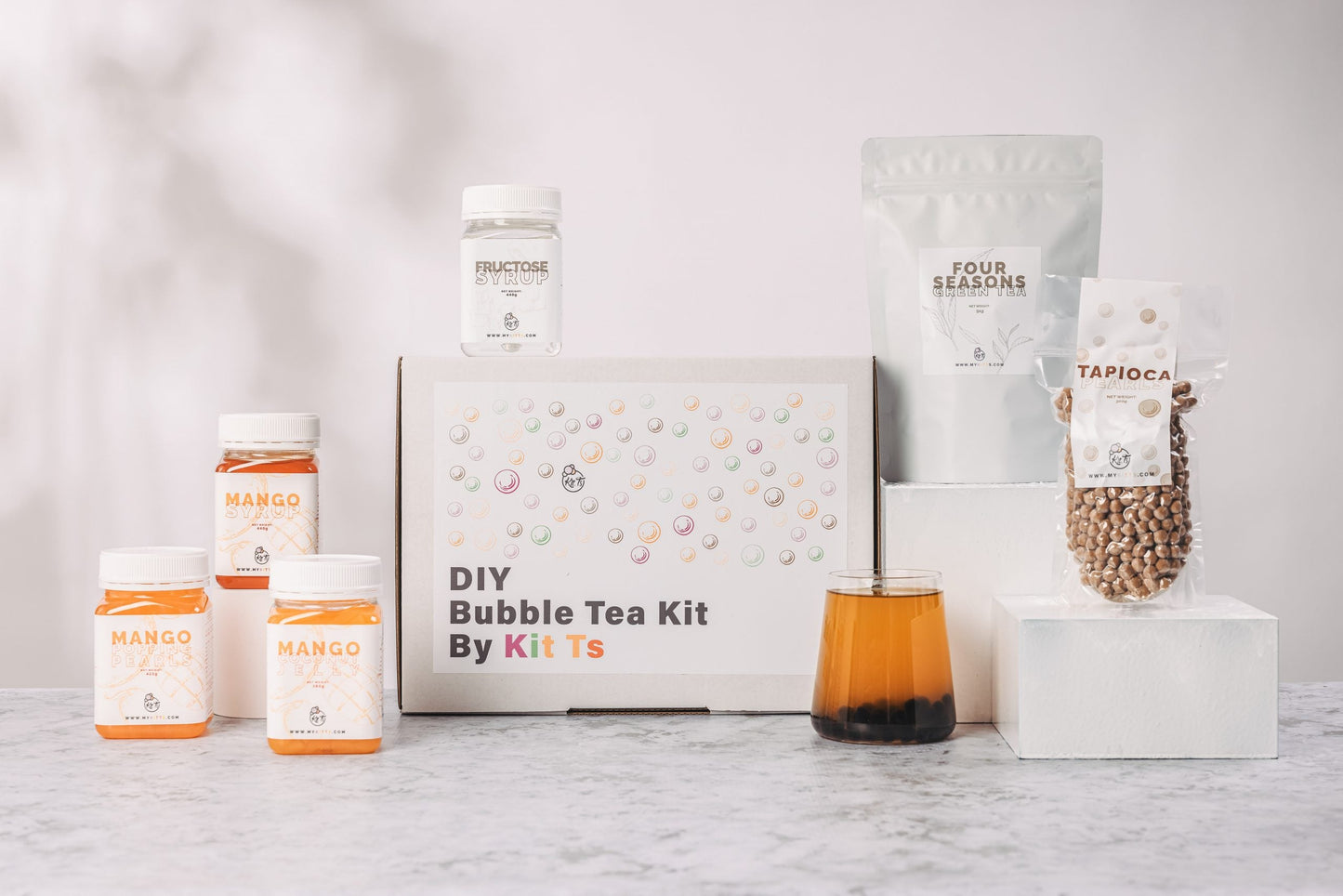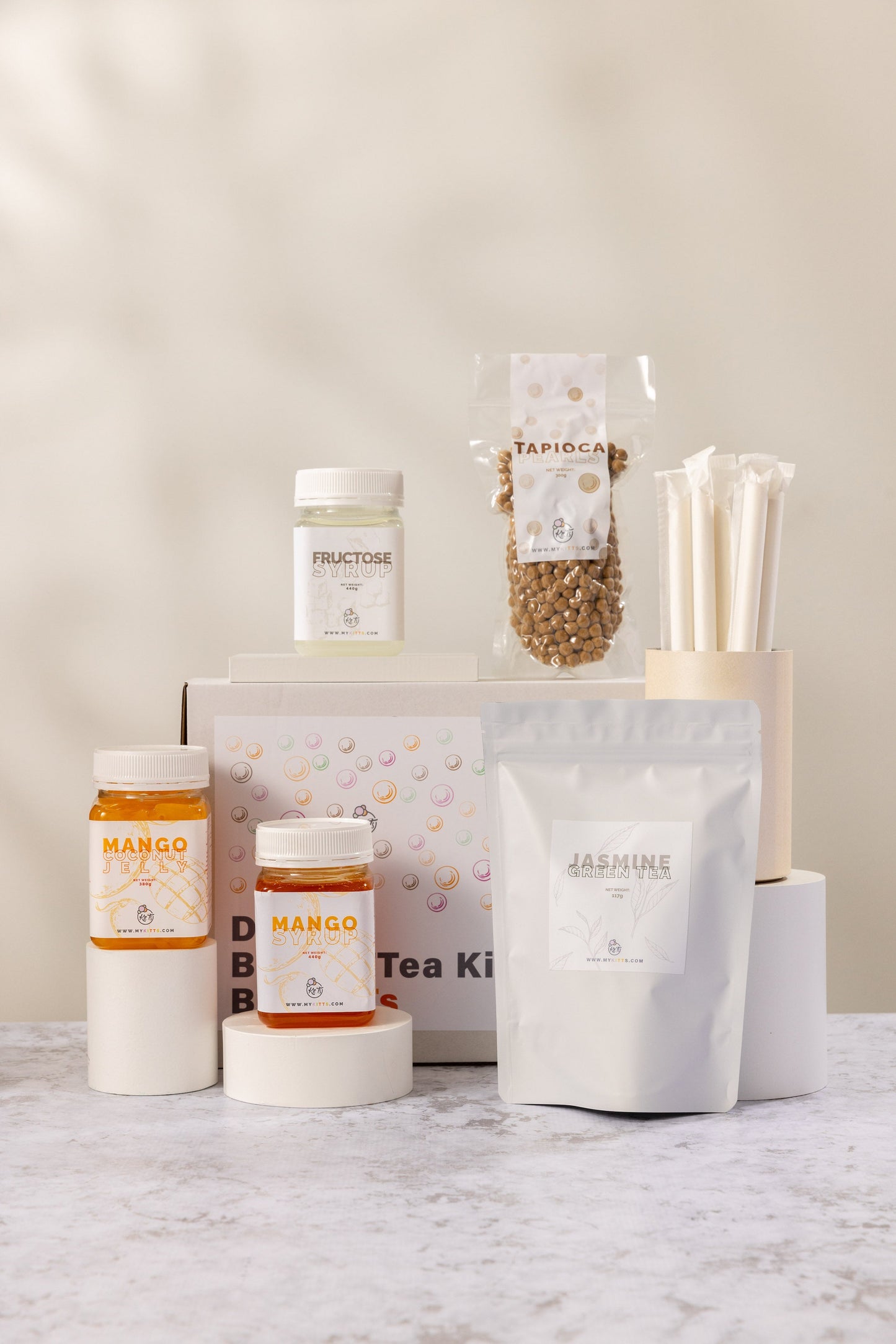 Australia Wide Shipping

We ship to any location in Australia and free for all orders over $69.

Authentic Taste

We supply authentic bubble tea supplies so now you can make your own recipes.

Bubble Tea Kits

We offer complete bubble tea kits so that you can enjoy the full bubble tea experience at home.

Drink Now, Pay Later

Pay your way with Buy Now, Pay Later options available online.